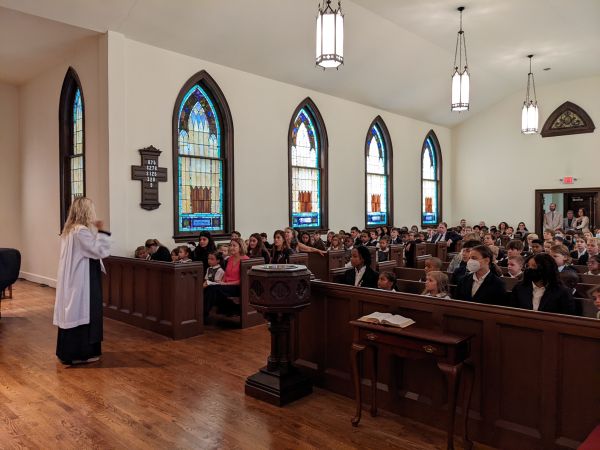 A cornerstone of life at St. John's is our commitment to Christian values and the development of moral character. We are devoted to our Episcopal identity and to our role as an outreach of St. John's Episcopal Church. Affirming our religious heritage, we reach out to people of all faiths and backgrounds by accentuating the common elements of our personal, spiritual and communal growth.
St. John's Episcopal School is a ministry of St. John's Episcopal Church. The rector of St. John's Episcopal Church, The Rev. James Valliant founded St. John's Episcopal School in 1961, with the Vestry, based on his vision to "send forth well-balanced individuals - disciplined, courteous and self-reliant - generously equipped with academic knowledge." The Rev. Valliant was resolute in his belief that the power of knowledge should be imparted "within the climate of a warm Christian experience."
Today's St. John's Church remains a ministry-minded, outward-facing congregation. With its mission "Called by Christ in love, to live in truth and action," the church strives to see itself as equipping and empowering Christians to serve Christ and the world seven days a week. St. John's School households are warmly invited and included in the larger church community through worship and formation, but also households from the school regularly participate side-by-side with church households in service and outreach to the Greater Olney community.
St. John's Episcopal Church's Associate Rector serves as school chaplain and the Rector and Associate Rector oversee the Christian education curriculum at the school. They are available to students and families for a variety of pastoral needs and are called upon by the school when appropriate to step into meetings with students or parents when the situations require.
Currently the School and Church find shared mission in outreach offerings to the community, including stocking a food pantry onsite, working with local non-profits like Comfort Cases to support foster children or International Refugee Committee to support resettling refugees into homes, and supporting gathering toys, holiday meals, coats and shoes for children within the county.
For more information, please visit our church website or The Episcopal Diocese of Washington.