Overview and Application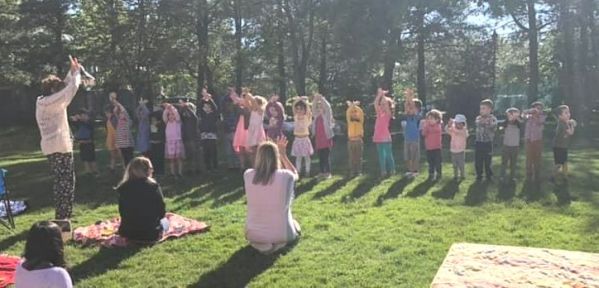 Pre-Kindergarten 3 and Pre-Kindergarten 4 at St. John's Episcopal School are theme-based, academic programs nurturing character development and faith for children ages three to five years old. Our primary mission is to provide a safe, caring, and positive environment that fosters a lifelong love of learning.

Our engaging programs encourage the social, emotional, physical, creative, spiritual, and cognitive development of the whole child. We proudly focus on teaching our students our core values of kindness, honesty, respect, and compassion. These values are integrated into the daily routines that form a strong basis for all our academic and social/emotional learning throughout the school year.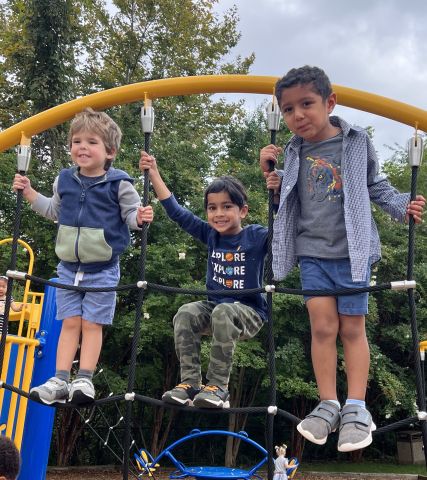 Our daily schedules are designed to balance teacher-guided and child-initiated activities, along with both active and quiet time. There is a balance between individual, small group, and large group activities. We promote and provide numerous opportunities for our children to explore, interact, imagine, create, make decisions, and solve problems. Our curriculum teaches readiness skills in reading, math, science, and social studies through discovery and creative activities both inside and outside the classroom. Our children are engaged and involved in a literature-rich classroom that also provides many opportunities in art, music, movement, dance, and dramatic play. Our program is enhanced by our "specials," which are STEM, Spanish, Library/Media, PE, Religion, and Hands-On Chapel.

In Pre-Kindergarten Spanish classes, students are immersed in the Spanish language. They start with greeting one another and singing a morning or afternoon song for each class in Spanish. Music, art, and movement are added to each learning unit when students learn about colors, food, shapes, family, parts of the body, seasons, and the calendar. When learning about nature and the outdoors, learning takes place outside on the beautiful school grounds. The teacher interacts with the students in a Spanish-speaking environment including conversing with students outside the classroom in Spanish as well.
Our Pre-Kindergarten teachers focus on each child's age and stage of development, help each child meet the goals that are right for him or her, and value and include each child's family, language, and culture. Materials, activities, and strategies are chosen and adapted with these outcomes in mind. Teachers plan activities and experiences that build upon, support and enhance children's well-being, a sense of belonging, confidence in their capacities to explore and learn, growing skills in communication, and the opportunity to contribute to the life of the classroom.

A theme-based model encourages children to form those patterns. When all the learning activities are connected around a "theme," children see how learning is interconnected. For example, science isn't just a subject that stands alone but is very closely related to reading, math, and social studies. Our programs promote children's knowledge and skills, helping them make connections about the world around them.
Curriculum Overview: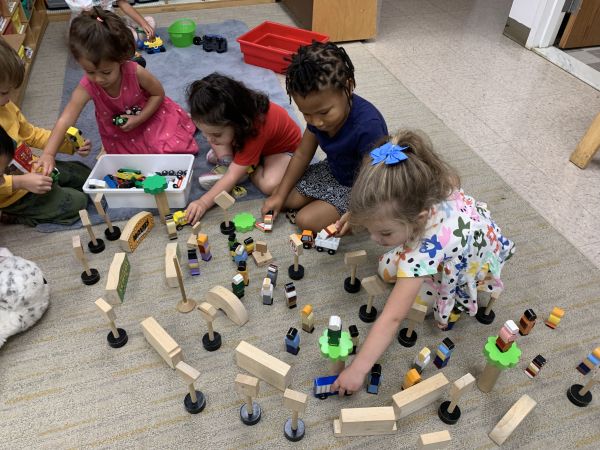 Language Development: includes listening, following directions, and engaging in discussions, phonemic awareness, letter and sound recognition, receptive and expressive language skills, acquiring new vocabulary, and sequencing a story in pictures
Math: includes counting, sorting, number awareness, patterning, graphing, and recognition of numbers and shapes
Social Studies: includes All About Me, Family, Friendship/Kindness, Our Community, The World Around Us, Holidays, STJES Character Traits
Science: includes Nature, Five Senses, Taking Care of Ourselves, Food and Nutrition, Animals, Plants, Weather, Seasons, Life Cycles, and Taking Care of Our Earth
Fine Motor Skills: diversified hands-on manipulatives, art-based activities, pre-writing and writing activities, cutting and gluing
Gross Motor Skills: outdoor/indoor play includes climbing and running, and numerous teacher-guided group game activities, including music and movement
Specials: Library/Media Tech, PE, STEM, Spanish, Hands-On Chapel, and Religion classes are included in our weekly schedule
Our Pre-Kindergarten program is fortunate to have our own Play Garden. This outdoor space, just outside our back door, is an oasis for the children where they can play, run, build, and explore nature and the outdoors with their friends. In the spring, we enjoy planting and releasing butterflies in the beautiful flowers! Our students are also able to enjoy the school's larger playground.

Read more about our Pre-kindergarten Program.

Application Process:
1. Schedule a Tour of the Campus
Please contact the Admissions Office to arrange an initial visit to the school. During your visit, you will have the opportunity to meet the Head of School and the Director of Admissions. You will receive a tour of the campus and facilities, as well as observe classes in session.

2. Complete the Application and Parent Questionnaire
You may apply online by completing the Online Application. There is a non-refundable $75 application fee for each student.

3. Playdate and Assessment
Pre-Kindergarten 3 applicants are required to spend two hours in the Pre-kindergarten 3 classroom during the school day on a mutually-agreed upon date prior to the last day of school. Teachers will observe and assess your child.
Pre-Kindergarten 4 applicants are required to spend a morning in the Pre-Kindergarten 3 classroom during the school day on a mutually-agreed upon date prior to the last day of school. Teachers will observe and assess your child. This visit will provide an opportunity for your child to interact with their future classmates.
4. Submit Teacher Recommendation
A Teacher Recommendation form is required for all students who are currently enrolled in a preschool program. A Teacher Recommendation form is included in the Application packet online.

5. Enrollment Decisions
Once all steps are completed, the Admissions Team will make a decision based on multiple factors, including the student's assessment results, school visit, and the availability of space in the grade for which the student is applying.

Application Deadline: February 1.
Applications received by February 1 will be given first consideration, with notification of decisions by the beginning of March.
Applications received after February 1 will be considered on a rolling basis, depending on class openings.

Additional Information about Pre-Kindergarten:
1. Pre-Kindergarten 3 is for students who will turn 3 years of age by September 1 of that school year. Pre-Kindergarten 4 is for students who will turn 4 years of age by September 1 of that school year.
2. Attendance Options:
5 day full day, 8:00 am – 3:00 pm Monday – Friday
5 day partial day, 8:00 am – 1:00 pm Monday – Friday
3 or 4 day full or partial days are available in the PreK-3 program. Please inquire about this option when applying.
3. The maximum class size is 15 students.
4. Extended Day Programs: Before and Aftercare are available. Please visit our page on Extended Day Programs to learn more.
5. The school year will follow the same schedule as the St. John's Kindergarten through Grade 8 calendar.
Douglas R. Perkins
Director of Admissions
St. John's Episcopal School
doug.perkins@stjes.org
301-774-6804, ext. 160